***Welcome***
Next Run
#441
Saturday
03 Dec 2022
Time: 14:00
(2pm)
Your Hare
Please don't forget to confirm your
OnOn attendance and
menu selections below.
---
Circle Location: Arroyo Seco.
Directions:
Coming from Fuengirola on the Coin Alhaurin el Grande road at BigMat roundabout take 2nd exit A-7053 at the second roundabout stay on the A-7053 then cross over the bridge and at the bend turn right then follow the dirt track passing an old finca and burnt out motor.
Go down to the dry riverbed and park along on the right.
Google Maps:
Link To The Circle…….🚘
pending
---
OnOn Location: Asociación El Cernícalo (Kestrel).
Diseminado Atalaya, 162, 29650 Mijas, Málaga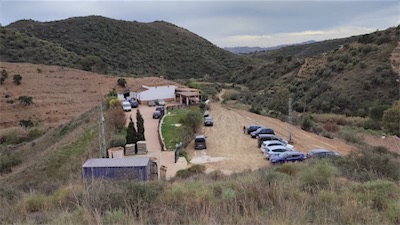 ☎️ 659 678 939
Google Maps:
Link To The On On……..🚘

Please confirm your on On On attendance and submit your menu selections below
One submission per hasher please.
**Pay As You Go**
Salads and Starters are large enough for two.
---
Lost Soles:
📱+34 633 744 302
📱+34 619 651 253

Don't forget drinking vessels, spare shoes and water bottles
On On Sir Lee Marvin
---
Away Weekend 26-28 May 2023
Details Soon
---
---
Contact Malaga HHH
email: info@malagahhh.com
GM: Sir Lee Marvin
(+34) 654 633 430
RA: Salmonella Rushdie
(+34) 605 841 886